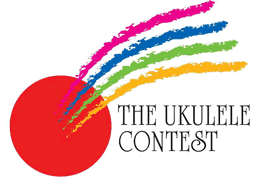 This ukulele contest has been held three times as the "Famous" Ukulele Contest in Asakusa , Tokyo, JAPAN, produced by KIWAYA Co., Ltd. since 2002.
This contest is held every two years, and this event has become well known to ukulele fans and musical organizations in Japan.
KIWAYA would like to keep and develop the ukulele culture in Japan.
In 2007, KIWAYA has decided to expand the contest, so the brand "Famous" was dropped from the name and other cooperating organizations co-sponsored "The Ukulele Contest"for the 4th bi-annual event.
Many organizations are sponsors & supporters of the ukulele contest.
They are not only Japanese companies but also overseas organizations; including The Ukulele Festival Hawaii, Oahu Visitors Bureau.
We are sure that this contest will be powerful and come to be recognized as a premier event in the ukulele world.
The Ukulele Contest Web site http://www.kiwaya.com/contest/
KIWAYA supports Ukulele Festival Hawaii as a sponsor.
KIWAYA has donated KIWAYA ukuleles to this event, children in Hawaii are enjoying our ukuleles.
It's our honor that Hawaiian children know and use the ukulele made in Japan, because Hawaii is the origin of ukulele.
The winner of The Ukulele Contest will join Ukulele Festival Hawaii.
The next dream will be the development of community between Japanese and Hawaiian children through the ukulele.
That is the mission "Offering Happiness through the Ukulele".