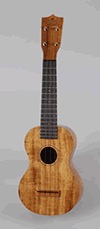 The ukulele is a 4-stringed instrument born in Hawaii.
Nowadays, it has become a global instrument like the guitar or keyboard.
You can play any kind of music: rock, pops, jazz, classical and more with the ukulele.

There are a variety of playing styles--singing songs, solo and ensemble.
The original sound of ukulele makes you feel relaxed and brings you pleaure and excitement.

KIWAYA is the only specialized ukulele company in Japan.
We produce, merchandise, teach at our music school, share our ukulele museum, and hold a national ukulele contest every two years.
Our policy is "offering happiness through the ukulele" and we're sure of it coming true!